SLU, the Swedish University of Agricultural Sciences, develops the knowledge of the biological natural resources and seeks solutions to vital problems in both theory and practice by asking the big questions about animals, nature and life. One of SLU's challenges is also to recruit students.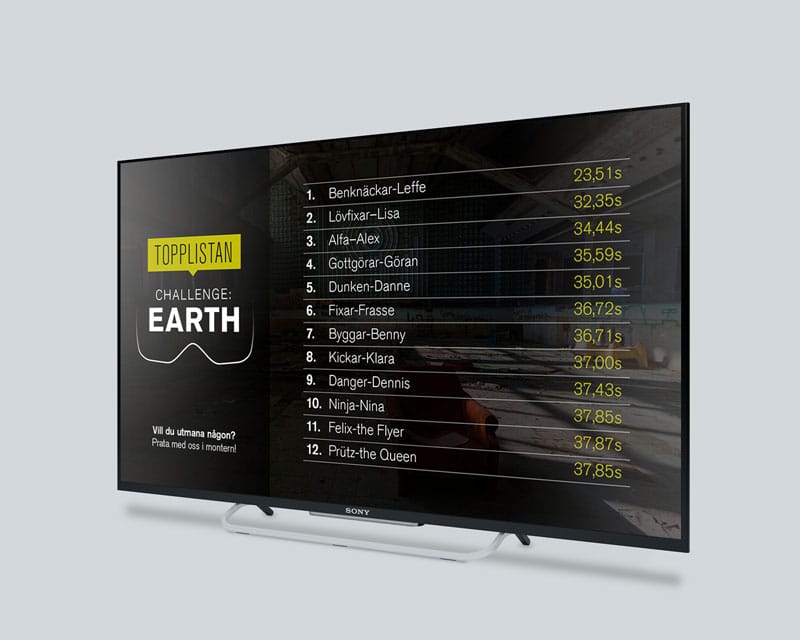 Save the world, in 30 seconds
SLU turned to us to find a new way to reach students in connection with trade fairs. They were looking for a solution to create attention, participation and interaction in their exhibition booth.
SLU's quest for solutions to the world's problems inspired us to create the game Challenge: Earth. A game that places the visitor in an exciting VR world, with the task of discovering a number of errors in the shortest possible time. And the only way to see what could be wrong in the virtual world was by putting on the VR glasses and participating.
Shared tention
In order to give the player both an experience and an adrenaline rush, we complemented the virtual world with a clock that counts down and a soundscape that enhances the feeling of being some where else.
A highscore list with the best times shown on a large screen made the competition moment exciting for those who watched. The screen also showed how many issues the players found.
A solutions that had people queing
SLU has used the vr game at several fairs and the solution had the desired effect – it both attracted visitors to the stand and created a positive feeling for SLU. Many even wanted to play several times and the queues were sometimes long.